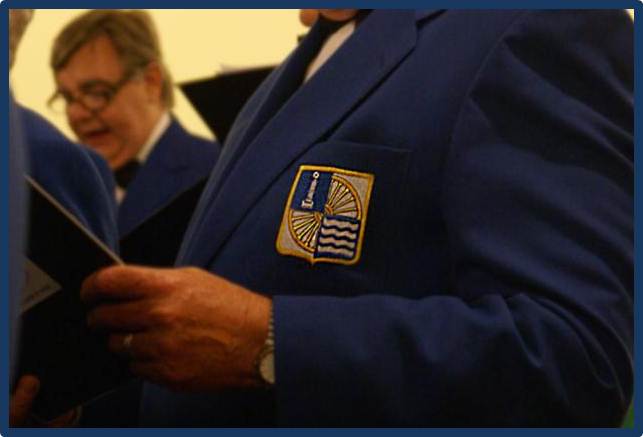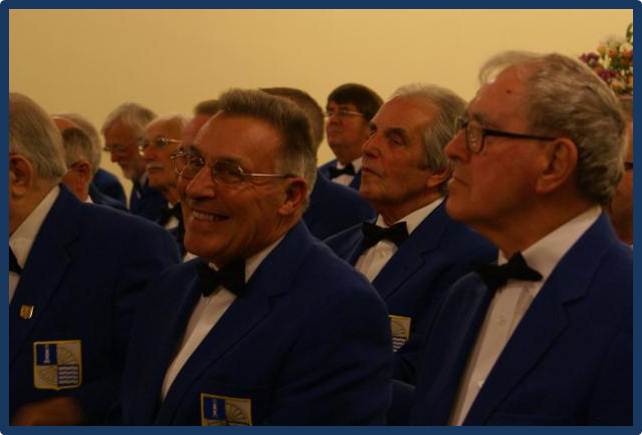 Join Us
Do you want to:-
Feel good
Reduce stress
Improve your social life
Make new friends
Enjoy trips away
Boost your self-esteem
........and maybe even stop snoring?

Singing in a choir is beneficial in so many different ways and Backworth Male Voice Choir is currently recruiting new members.
Don't worry if you can't read music or you are not sure about whether you are a tenor, baritone or bass. You will be given expert guidance, encouragement and an opportunity to develop your musical talents.
If you are interested in singing why not come along to one of our rehearsals any Wednesday night from 7.30 to 9.30 pm at
Saint Hilda's Church
Stanton Road
Preston Gate
North Shields
Tyne & Wear
NE30 3PH
Or for an informal chat about Backworth Choir please contact the Secretary.
Brian Kerr
62, Tillmouth Avenue
Holywell Whitley Bay
NE25 0NR
0191 2376049
secretarybackworth@gmail.com
MEMBER COMMENTS

Malcolm Stafford 2nd Tenor - Backworth Male Voice Choir
I became a member of the BMVC after going to see them at the Whitley Bay Playhouse, up till that point I had only sang with my church choir on a Sunday morning. The next day like you, I was having a look at the web site and found the phone number and gave the choir a call.
The people I spoke to could not have been more helpful and made the path to my first rehearsal so much easier.
At first I sat in with the baritones and one of the lads gave me the music so I could sing along, as always they could not help me enough and I enjoyed my first night being part of the BMVC and the nice cup of tea. The thing I like about our rehearsals is no one is ever singled out; no one has to sing on their own or will ever be embarrassed by the other members. That's not to say we don't have a laugh (because we do)
I have been a member for over a year now and still feel it's the best phone call I ever made.
So like me, if you like to sing (and you don't have to be Pavarotti) Make that call come and join the BMVC.
Gerry Killen 2nd Tenor - Backworth Male Voice Choir
I joined Backworth almost 24 years ago after some of Backworth Choir came to provide entertainment at our church choir Christmas Dinner.
It has been a wonderful time and I have met so many good friends, some wonderful musicians who have taught me a tremendous amount about music and singing.
With Backworth Choir I have sang at Cardiff Arms Park on two occasions with 10,000 other singers where we backing Shirley Bassey and Tom Jones, another great occasion was singing with 1000 Welsh Voices at the Albert Hall. I have also travelled with the choir to Germany (Solingen and Hamburg), to France and Belgium (Halluin) to Wales and to many parts of the UK. I'm sure if you ask other members of the choir they will tell you they are wonderful choral and social occasions.
Rehearsals are pleasant and enjoyable, new members are made most welcome. I would say to anyone considering joining the choir, come along sit and listen, don't be overawed - it takes time to learn to sing, but most importantly give yourself AT LEAST 6 months to get to know some of the music. You don't have to be a great singer, just be prepared to listen and learn at your own pace, everyone is different.
Thanks to all members, musical directors, accompanists (past and present) who have made my time with Backworth Choir such and enjoyable time.
To all of our foreign friends from other choirs throughout the world who are reading this, greetings to you all
Paul Robson, Baritone- Backworth Male Voice Choir
I joined the choir last year and 've been absolutely delighted with the welcome I have received from everyone. The dedication, professionalism and friendliness of the choir is exceptional.
Colin Lawton, Baritone- Backworth Male Voice Choir Colin Lawton joined the choir 50 years ago and is the choir's longest serving member. Colin says that he plans to go on singing "for another ten or twenty years as long as my voice lasts and more importantly my memory, because we have to sing without a copy of words or music.
Andy Rutherford Bass - Backworth Male Voice Choir
1954 was a memorable year regarding Backworth Male Voice Choir. The original Musical Director at the time was Joe King, the colliery manager at Fenwick Colliery. He was also my boss and encouraged me to join the young choir, which I did for only four months. However, at 18 years of age, courting became the priority of young Andy Rutherford. Following my eventual retirement 50 years later, I was invited to rejoin the choir in 2004.
This has proved to be the best and most important social decision I have made in recent years. The enjoyment of Choral music has become an important aspect of my life, providing both a real artistic element and new found friends of similar interests. My involvement in Choir administration has also given added pleasure and welcome responsibility, providing a great insight into choir organisation.
I continue to enjoy the benefits of choral singing, socialising and the presentation of local and continental public concerts. Rehearsal is also an essential part of choral singing and readers with musical interests and some singing ability, should consider joining a local choir for the pleasures and benefits I have mentioned.