Our Popular CD Selections
Our CD collection demonstrates and promotes the diversity and quality of Backworth Male Voice Choir since its foundation in 1951 to the present day.
From Tyneside to the US of A:- £6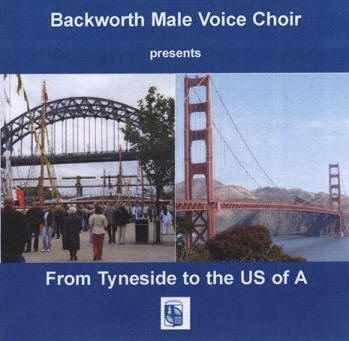 1. An American Trilogy (Live Recording)
2. Bobby Shafto
3. Colliers' Requiem
4. Country Roads
5. Go Down Moses and Jacob's Ladder
6. Jimmy Brown (Live Recording)
7. Ma Bonnie Lad
8. Northumbria
9. The Battle Hymn of the Republic
10. The Keel Row
11. The Old Folks at Home
12. The Trail of the Lonesome Pine (Live Recording)
Songs from the Heart:- £6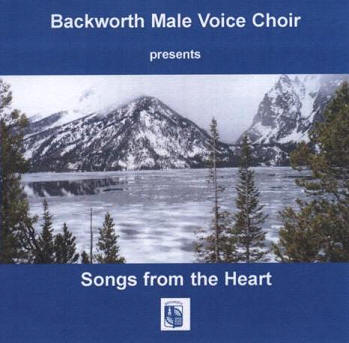 1. Die Birke
2. Gurtel und Tuchlein
3. Gwahoddiad
4. Hallelujah Sing a Song
5. Lark in the Clear Air
6. Linden Lea
7. Marina (Live Recording)
8. Ol' Man River
9. Old Mother Hubbard
10. Schutsgeist
11. Softly As I Leave You
12. The Finnish Forest
13. Two Roses
14. Were You There (Live Recording)
15. Wild Mountain Thyme
Songs to Inspire Us:- £6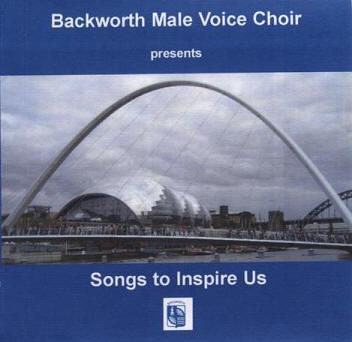 1. African Prayer
2. Amazing Grace (Live Recording)
3. Gwahoddiad
4. Holy City (Live Recording)
5. Jesus Shall Reign
6. Llanfair
7. My Lord What a Morning
8. Northumbria
9. Softly As I Leave You
10. The Great I Am
11. The Lord's Prayer
12. The Soldier's Farewell
13. Vive l'Amour
14. Will Ye Go Lassie Go
To listen to a short version of two of the tracks please click on the following links.
You can purchase the above CDs individually at £6, two for £10 or 3 for £15.
If you would like the CDs delivered, then there will be an additional charge of £1.50 per CD for postage and packing in the UK. Delivery overseas will be at cost.

An order form can be downloaded from the following link.