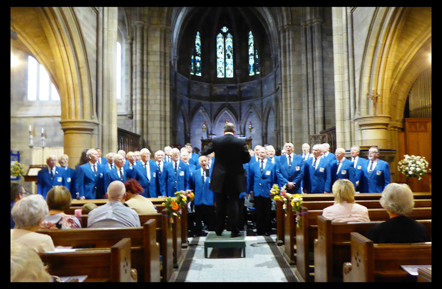 Welcome to Backworth Male Voice Choir!
The Backworth Male Voice is based in North Tyneside and has been performing regularly throughout the region and beyond for over sixty years.
The Choir was founded by the local miners of Backworth Colliery in 1951 and although the pits are long-gone, the Choir is more active than it has ever been, having recently performed in such venues as: The Sage Gateshead, Durham Cathedral, Newcastle City Hall and at the Menin Gate in Belgium.

We are a seventy strong choir with a passion for singing and socialising; proud of our heritage we are committed to keeping the art of male voice singing enjoyable and engaging.
We hope that you enjoy your visit!
News about the Choir
We are honoured to support!
The North East of England will come together this weekend to remember the fallen from the First World War at a Concert and Service in St. Nicholas Cathedral, Newcastle.
The North East War Memorials Project is organizing a weekend of activities to honour the fallen from the North East and have invited special guests from Ypres, Arras and the Somme. The concert and service at the Cathedral, which will be free, will take place on Saturday, 6 October between 5.30 and 7.00pm.
Backworth Male Voice Choir are honoured to support such an important and special event. They will be joined by the Band of the Royal Regiment of Fusiliers to entertain the audience and support the service.
The Choir will be singing songs from the First World War, local favourites Bobby Shafto and The Colliers' Requiem and appropriate numbers, such as Bring Him Home and You'll Never Walk Alone.
This promises to be a popular event so the organizers are encouraging interested people to get to the Cathedral early!
Not a dry eye in the house!
Yes, there was not a dry eye in the house for theatre goers in North Shields on Wednesday evening.
The venue was The Exchange and the audience was thrilled with a beautiful evening and songs with "Sydney Opera House to Tyneside". Our own local Backworth Male Voice Choir was supported by the Australian Welsh Male Voice Choir and the internationally renowned soprano, Ayșe Göknur Shanal.
The guys from Australia presented some great southern hemisphere music but excelled with their versions of "The Fields of Athenry" and "Shelter". Ayse excited the audience with her versions of "Habanera", "I Could Have Danced All Night" and Turkish folksongs. You could hear a pin drop in the theatre and "tears were held back" when Backworth sang "The Colliers' Requiem" and "You'll Never Walk Alone".
The visit of the Australian Choir and Ayse to the UK will end in a mixed choir concert at the Royal Albert Hall in London. Our own Backworth Choir is certainly getting a growing reputation both nationally and internationally!
Check our Concert Calendar
Synchronise your diary with ours, by visiting our Concert Calendar here.