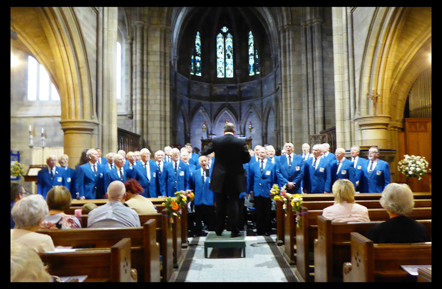 Welcome to Backworth Male Voice Choir!
The Backworth Male Voice is based in North Tyneside and has been performing regularly throughout the region and beyond for over sixty years.
The Choir was founded by the local miners of Backworth Colliery in 1951 and although the pits are long-gone, the Choir is more active than it has ever been, having recently performed in such venues as: The Sage Gateshead, Durham Cathedral, Newcastle City Hall and at the Menin Gate in Belgium.

We are a seventy strong choir with a passion for singing and socialising; proud of our heritage we are committed to keeping the art of male voice singing enjoyable and engaging.
We hope that you enjoy your visit!
News about the Choir
Top local choir receives International Recognition
A North Tyneside male voice has now gained international recognition for its quality of music.
Backworth Male Voice Choir, which was founded in 1951 by miners at Backworth Colliery, has been popular with audiences across the region, the country and in Europe. The Choir is now recognized as one of the best in the North of England. Its fame has now attracted recognition from one of the top international male voice choirs – the Australian Welsh Male Voice Choir
Gerry Killen, Backworth Chair, explains "We were contacted last year by the guys from Melbourne who were planning a 2018 UK Tour which will end with a concert at the Royal Albert Hall. They were keen to sing with us while they were in the North East."
Backworth and the Australian Welsh will be supported on stage by Brisbane born soprano Ayșe Göknur Shanal.
The concert will take place at The Exchange, North Shields on Wednesday, 26 September 2018 at 7.00pm. Tickets can be obtained from The Exchange, Tel. 0191 258 4111.
Check our Concert Calendar
Synchronise your diary with ours, by visiting our Concert Calendar here.